Canyon Martvili and thermal springs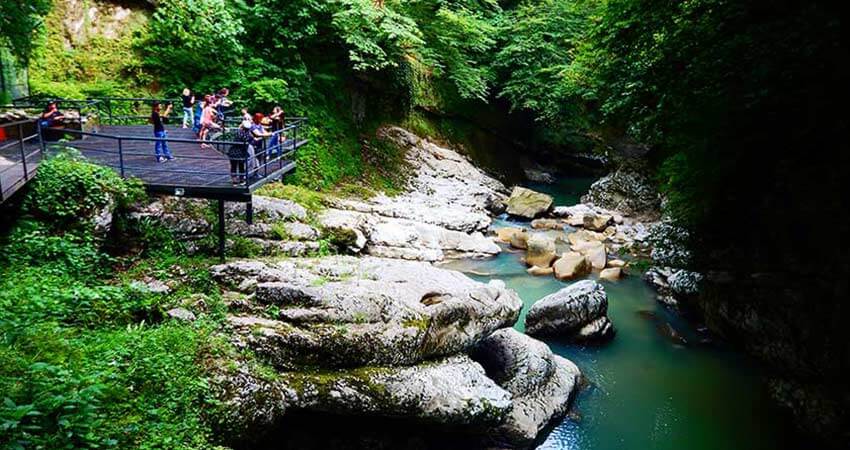 Short description
Georgia is rich in unique natural phenomena, one of these places - Martvili canyons. This is a fabulous place, surrounded by underground rivers, relict forests, high cliffs and waterfalls. During the tour, you will ride an inflatable boat through the Gachedili canyons, visit the Martvili monastery and swim in the hot springs. A visit to the canyon will be a real adventure!
Type of excursion:
Sightseeing • Mountains & canyons
Description
During the tour, you will ride in an inflatable boat through the canyons Gachedili. The length of this nature reserve reaches 2400 meters, while the depth ranges from 20 to 40 meters. You will see a step-cascade waterfall, 12 meters high, swim in a mountain stream, which is connected with healing hot sulfur springs, which rise right out of the ground.
The canyon is famous not only for its virgin nature, but also for its rich history. According to official data, many traces of prehistoric animals, including dinosaurs, have been found in the canyon itself and in its vicinity. Therefore, the beauty and mysteriousness of these places attract travelers from all over the world.
You will visit the Martvili monastery of the 7th century, which fascinates with its location, architecture, antiquity and unique history in which the great king of Georgia David the Builder was raised.
Traces of the primitive caveman's presence have been seen in this region. Let's complete our excursion with a traditional Georgian feast with homemade wine and chacha.
Includeed in Price
Comfortable transport
Qualified guide
Lunch with Georgian dishes
Homemade wine & Chacha
Non-alcohol drinks
Entrance tickets
Details
Excursion start location:

Место вашего проживания

Number of participants:

min 1 / max 16

Duration

hours: 12

Length of the route:

320 км

Free cancel before:

48 Hours
Select date and number of participants
Prepay and cancellation policy
The prepayment is 12% of the cost of the service.
Free cancellation is possible for 48 hours before the start
Reviews: 2